Smiles Café
An interesting place started in the 1920's to offer ice cream to the fisherman and cannery workers. It's heyday was during the war when 5,000 troops were stationed in Prince Rupert (More on this later)the place was going 24/7 serving the shift workers. For a place mat they give you an old menu list from 1945. Average price back then was around 40cents for a meal, coffee was 10 cents and 5cent refill! Steaks with extras were $1.25. some notables items were "Hot Tamales" and "Mexican chilli". Likely added to the menu because of the high number of US troops who were used to Mexican food. Also they had canned spaghetti and canned beans as menu items. At least they were honest about their food back then.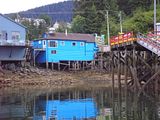 On this trip I had the halibut burger, it was decent meal with a good size chunk of fish. When you are in Prince Rupert, do yourself a favour and eat fish, it's generally fresh and plentiful. When you get tired of fish, check out "Zorbas", a Greek/Sri Lankan restaurant that makes a great lamb vindaloo.
Prince Rupert as a whole is suffering, the downturn in Fishing and Logging is leaving it's mark, evident by the number of closed shops. The only good things happening there are
tourism
and the new
container dock
. The large mill there is unlikely ever to reopen, despite many failed attempts. The major exports currently are
raw logs
, a practice few people like, but it employs people who otherwise would not be working. Prince Rupert is no stranger to the Boom and Bust cycle, a read of the current and old newspaper articles shows that the citizens have never given up hope that one day their city will grow beyond that cycle.
Edit: sorry for the picture eating at the words, the margins don't seem to want to work.